LIDICE "Memorial of child victims of the war"

Motto:
People, stop and listen to the
message of children killed by war!
Hurry up to tell all that everything
is dependant on a spider's thread!
I know it! But I cannot do anything
else but these statues of children - to the best of my skills ....
(From the poem "Whist there is still an open door in the world"
of the academic sculptor Marie Uchytilova 1987)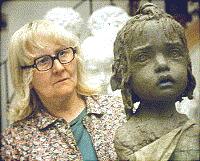 Academic sculptor Marie Uchytilova
is realising her life's dream.
"In all languages of the world, my statues speak silently, which I do for your children"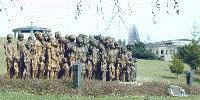 1)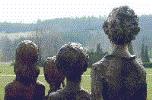 2)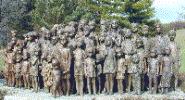 3)

4)

5)

6)
1) In April 2000 the sculpture was still incomplete - there were seven statues missing.
2) Children are looking towards the common grave of their fathers, grandfathers and friends.
3) The first thirty statues have been standing here since 1995.
4) At the back of the sculpture, a little boy is standing by his older sister.
5) The whole view of the not yet complete work.
6) This group have only been here since 1999.
And then it was the 7th June 2000 and along came Jiri Vaclav Hampl with his colleagues and installed the last statues.

7)

8)

9)

10)

11)

12)

13)

14)
7) The transported statues are still on board of the truck.
8) Some of the statues are so heavy, that an A-frame has to be used in order to position them.
9) J.V.Hampl (on the left) with the metal founders from Moravia (in the middle) and Mr. Ing. Flexa (on the right)
10) The lifting of the statues is very difficult.
11) The setting of a statue into a concrete foundation.
12) Detail of a sad girl.
13) Even two strong man are nearly not enough to lift one bronze statue.
14) Detail of the smallest boy standing at the front of the memorial.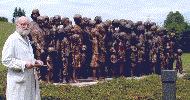 15)

16)

17)

18)
15) And the work is finished. The dream of Mrs. Marie Uchytilova has been realised in bronze only after her death, by her husband, Mr. J.V. Hampl.
16) Sculptor Marie Uchytilova (17.1.1924 - 16.11.1989)
17) A bronze medal created by Marie Uchytilova with a motif of a newborn baby and a broken rose bud as a sign of a wasted life. (5cm)
18) Another bronze medal with a relief of Lidice's cross on the obverse side, where there are engraved names of murdered Lidice's children. (6cm)


* * *
On Friday, one day before the anniversary,
it was necessary to wash the statues
and clean the granite plinth of sand from the casting process.

19)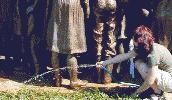 20)
19) Pavla Nesporova washing the "Memorial of child victims of the war".
20) Washing the plinthof fine sand which remained here from Wednesday's assembly of the final statues.
10th June 2000, the 58th anniversary of Lidice's tragedy,
was also the ceremonial unveiling of the final seven statues.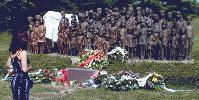 21)
21) 10th June 2000 just before the unveiling of the statues.
The day after,
many toys appeared on the memorial, laid at the children's feet.

22)

23)

24)

25)
People talk about the statues with respect and tears in their eyes.
"When you stand behind the statues, it seems that they are alive".
22) Those who brought the toys for the children surely gave from the heart.
23) "A girl with a little monkey"
24) The children's statues with toys, how eloquent and yet a paradox!
25) A girl has a marble in her palm, we found it whilst washing the statues.

The original plaster sculptures of children are on display in Panna Maria's church in Marianska Tynice.
A bronze memorial plaque, added to the memorial on the same day of its finishing, carries a note:
SCULPTED BETWEEN 1969 - 1992
SCULPTORS M. UCHYTILOVA A J.V. HAMPL
CAST IN BRONZE BETWEEN THE YEARS 1994 – 2000 BY
R. HVEZDA - HARTL & STEJFA A J. SOCHOR
FUNDED BY:
LIDICE KOMITEEN . ALBERTSLUND OG BODIL PERDERSEN FONDEN
DENMARK
LIDICE FOUNDATION . AKITA. JAPAN
CZECH - GERMAN FUND OF FUTURE. PRAHA
LIDICE 50TH ANIVERSARY COMMITTEE. LONDON. ENGLAND
BUNDESREGIERUNG FROM BDR
AND MANY THOUSANDS OF OTHER DONORS FROM THE CZECH REPUBLIC
AND MANY OTHER COUNTRIES.
THANKS TO:
THE COUNCIL OF LIDICE AND THE ASSOCIATION FOR BUILDING
THE MEMORIAL OF CHILD VICTIMS OF WAR.

* * *
"Lidice's Mother"
A symbolic statue of a mother is situated
where she lost her children,
by the gate of Kladno's grammar school courtyard.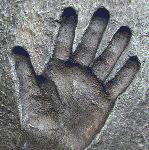 26)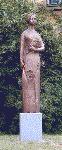 27)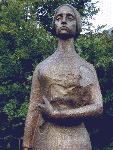 28)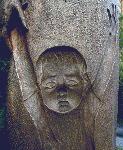 29)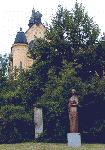 30)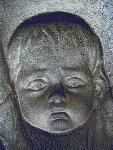 31)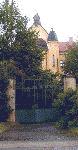 32)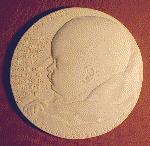 33)
The impressions of the children in the statue, give the illusion that they are looking at you, wherever you stand.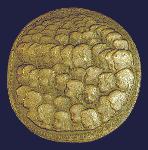 34)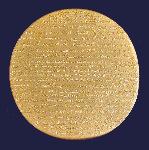 35)

26) A hand of a child holding its mother's skirt.
27) Lidice's mother, a symbol of grief and suffering.
28) A statue of a mother hugging her baby which was ripped away from her.
29) An imprint of a child's head in its mother's lap.
30) Behind the fence in the courtyard, to the shame of history, a Lidice mother is remembering the last moments with her children ....
31) A negative of sad child's eyes.
32) Through this gate the Lidice women with their children entered, but left only with empty arms.
33) A plaster plaque 21cm in diameter with a personal dedication by the designer on the reverse side to Mrs. Anna Nesporova. (1981)
34) A plaque with heads of the children (79mm)
35) Reverse side of the plaque with children's names (79mm)

The statue of "Lidice's mother", placed in Kladno in the rear courtyard wing of the Grammar School, also created by sculptor Mrs. Marie Uchytilova. The work was fitted on 9th June 2000 by Jiri Vaclav Hampl, husband of the sculptor.
There is a brass plaque on the granite plaque which says:

DEDICATED TO THE TOWN OF KLADNO

LIDICE KOMITEEN ALBERTSLUND

DANMARK

Albertslund is a modern city to the southwest of Copenhagen. It is remarkable mainly because of its tidy iron and concrete buildings, which are all low-rise. Everywhere can be reached by bicycle. There are special reserved areas for cars and the rest of the public areas are only for pedestrians and cyclists. Because there are no high-rise buildings, streets are small and well hidden the town has a very cosy atmosphere and it feels like an oasis with no motor vehicles.


* * *

Mrs. Uchytilova has also left a heritage of poetry.

"Whilst there is an open door in the world"

"The song of rain"

* * *

A work from Maie Uchytilová - Kucova,

known by citizen of the former Czechoslovakia.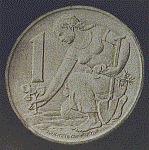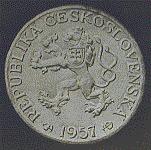 The "Czechoslovak Crown"
was legal tender nearly for 30 years.
The designer herself has written about the origin of this tender:
"... what an opportunity for an artist - to have my feelings in the palm of the whole nation!"
* * *
Anna Nesporova, (nee Horakova) from Lidice (married as Kohlickova during the tragedy), tells the story about the children.
In the old village of Lidice lived 98 children by 10th June 1942. After separating the children from their mothers in the great hall of Kladno's Grammar School, the 7 children under one were selected and transported to a hospital in Krc in Prague. From these seven children, only six returned after the war.
91 children older than one year were transported to Lodz in Poland. Once there a 9 were selected for re-education in German families. All the nine children returned.
The 82 remaining children were murdered during the transport from Lodz to Chelmno in Poland by exhaust gases in two lorries converted to be gas chambers.
Those children never reached Chelmno.
After the Lidice tragedy another 6 children were born in Prague, 20 Dykova street, where the pregnant woman from Lidice were taken. From these 6 children born after 10th June 1942 only 2 returned.
My daughter Venuska was borned in Dykova street. I gave her name after my husband Vaclav Kohlicek, but I could never christen her as I was shortly deported to concentration camp Ravensbruck in Germany.
Venuska never came back.
There was another baby boy born in the concentration camp, but he was killed instantly by an SS guard and his mum, Mrs. Hronikova was viciously beaten up. It is that child that is depicted on the plaques of Mrs. Uchytilova, without a Christian name. He was the last born child from the old village Lidice.
From the whole tragedy survived only 17 children out of 105.
Lidice 28th June 2000

* * *
All that Mrs. Nesporova has left of her daughter is her death certificate, a thin yellowish copy paper, signed by District Court in Kladno.
Under no. R1 2483/28 - III. 17.IV.50.

* * *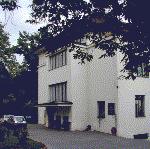 35)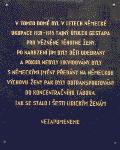 36)
36) 20 Dykova street, where the pregnant women from Lidice were taken.
37) A memorial plaque on 20 Dykova street. Now in use as a youth hostel.
Under the memorial plaque is added English translation by Mr. Ing. Jiri Vondracek.

THERE WAS A SECRET OFFICE OF GESTAPO IN THIS HOUSE IN THE YEARS OF GERMAN OCUPATION FOR IMPRISONING OF PREGNANT WOMEN. THE CHILDERN WHERE AFTER THE BIRTH TAKEN THEM AWAY AND USUALLY TAKE WITH GERMAN NAMES FOR GERMAN EDUCATION.
WOMEN WHERE TRANSPORTED TO CONCENTRACION CAMPS. SIX WOMEN FROM LIDICE WHERE TRANSPORTED THERE TOO.
WE NEVER FORGET.
* * *
A letter of thanks from the Major of Lidice to all donors, whom without their help the sculpture could not be completed.
Ladies and Gentlemen,
As a mayor of community of Lidice and on behalf of all citizens of this small village near Prague, I would like to thank you for your broad-minded financial gift with which you have contributed to finish sculpture children of Lidice.
This work of art is testimony of people evil and lawlessness which German nazi caused on innocent Lidice's children during the second world war. To finish the 82 figures from bronze was needed to collect a considerable amount of money. On this collection took a part also you and many other candidates from other different
countries. This event has become a symbol of international solidarity and is an important proposition that the world is not staying indifferent to the humans tragedies.
Yours truly
Vaclav Zelenka
The Mayor of Lidice
Lidice 25th july 2000