<=| op23 |=>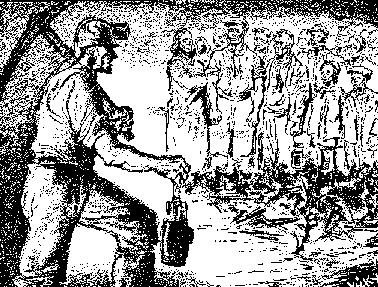 Most Moving War Film
On April 6 th News Chronicle published the fill story of the making of "the Silent Village," in honour of the miners of Lidice, by the people of the Welsh mining village of Cwmgiedd and the Crown Film Unit. Yesterday I saw the film, It is more moving than any other war film I have seen.
These Welsh people are magnificent. Humphrey Jennings, director and producer, told me that they became convinced they wewr actuality living in the Czech village. Looking at the film it is easy to belive this. Sculprtured by the camera they becimme an element of universal tragedy.
Many pictures have tried to covey the horrors of Nazi occupation. They have always missed. This makes no attempt to describe the indescribable - only three Nazi soldiers are seen. But by sheer imaginative power of artistry, by using raw and sensitive human material, it conveys the impactable presence of the invader more than any literalembodiment. The execution scene is shattering in its effect; the miners die singing in a mass choir as only Welshmen can sing. A tremendous virtue is to have left this as a Welsh village, not to have tried any Czech local colour. This, the avoidance of histrionics, the dramatic shots of the village in which the stones seem to act, andthe sad beauty of the Welsh landscape constitute true cinema. Richard Winnington
L I D I C E S H A L L L I V E
Today is the annyversary of the murder of the Czech mining village.
Vysvětlení k tomuto vyobrazení na str. 119 "poznámky" č.6